How Our Home Delivery Works
Two Scheduling Options
The free Driveway Delivery service is a convenient option for those customers who cannot be home when their heating products are delivered. A delivery coordinator will contact you at least one day in advance to notify you of the delivery and take note of any detailed delivery directions that you specify. One of our skilled drivers will then deliver the product on your driveway the following day.
Our Premier Garage Delivery service includes delivery of your order directly into your garage by one of our professional delivery drivers using a special pallet jack. A delivery coordinator will contact you at least one day in advance to find a mutually convenient delivery time. This option costs an additional charge of $30 and someone needs to be home at the time of delivery.
Note: Your garage floor must be concrete and smooth to ensure that our pallet jack can be used. Also, the delivery driver must have a clear and unobstructed access to the garage space where the pellets will be stored.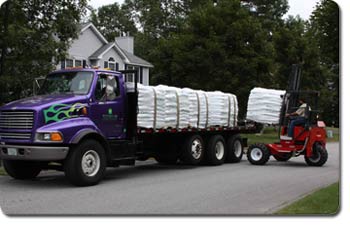 We don't park in your driveway!*
We park our truck in the street (not in your driveway!) and unload your pellets using our special forklift.
*In some areas we may deliver using smaller, lighter box trucks that may park in the driveway.
Note: Delivery lead times are estimates and does not constitute a guarantee. While on-time delivery is our goal, scheduling is at the discretion of our Delivery Team.
We're great at following directions!
We then carry your pellets up your driveway using our forklift and we place them exactly where you tell us. Give us the specifics in advance, or tape a sign that says 'PELLETS HERE' where you want em, and they'll be ready & waiting when you get home!
Sorry. Our fork trucks are too large to travel into your garage! We wouldn't want to damage your floor!
Garage Delivery!
If you selected Garage Delivery* then we place the pellets in your garage using specialized pallet jacks.
The floor must be smooth, flat, concrete to ensure that our pallet jack can used. In addition, the delivery specialist must have clear and unobstructed access to the space.
This option costs a little more, but it is a real time saver and alleviates you from having to re-stack the fuel!